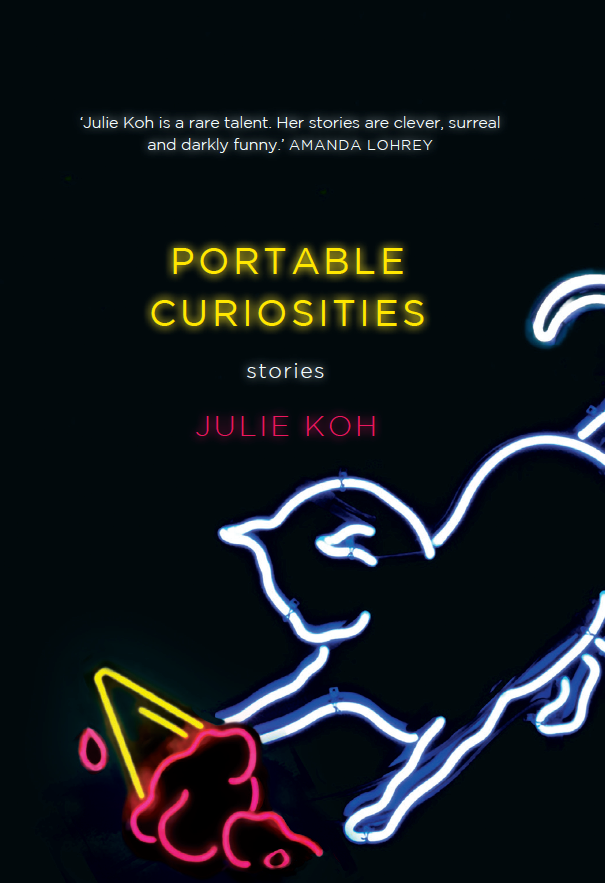 Full-length short story collection published by UQP.
About the Collection
A biting collection of stories from a bold new voice.
A young girl sees ghosts from her third eye, located where her belly button should be. A one-dimensional yellow man steps out of a cinema screen, hoping to lead a three-dimensional life. A journalist goes on assignment to report the latest food trend, which turns ice-cream eating into an extreme sport.
In Portable Curiosities, Julie Koh re-imagines our world with a dark, satirical twist. These twelve stories combine absurd humour with searing critiques on contemporary society – the rampant consumerism, the casual misogyny, the insidious fear of those who are different. Brilliantly clever and brimming with heart, this unforgettable collection is the work of a significant new talent.
Sydney Morning Herald Best Young Australian Novelist 2017
Shortlisted for the Readings Prize for New Australian Fiction 2016
Shortlisted for the Queensland Literary Awards – Australian Short Story Collection – Steele Rudd Award 2016
Shortlisted for the UTS Glenda Adams Award in the 2017 NSW Premier's Literary Awards
Selected for The Best Australian Stories 2016: 'The Fat Girl in History'
Selected for Best Australian Comedy Writing 2016: 'Cream Reaper'
A Best Australian Book of 2016, The Guardian
A 2016 and 2017 Book of the Year, Australian Book Review
A Sydney Morning Herald Daily Life feminist reading pick of 2016
A Feminist Writers Festival Best Feminist Book of 2016
What People Are Saying

'Armed with an uncanny ability to capture the zeitgeist of the time—whether it be contemporary society's obsession with foodie culture or institutionalised racism and misogyny—Australian writer Julie Koh's darkly satirical and convulsively funny short-story collection Portable Curiosities is as unsettling as it is edifying.' – Books+Publishing
'Julie Koh is a rare talent. Her stories are clever, surreal and darkly funny, mind puzzles that stay with you. Koh will alter the way you see the world. There is no-one quite like her.' – Amanda Lohrey, author of A Short History of Richard Kline and 2012 Patrick White Literary Award winner
'The Australian writer's new work, Portable Curiosities, is a collection of whip-smart satirical tales that are as painfully funny as they are uncomfortably timely. … It's perfect for our busy, scary times: easily digestible and, for all its madcap imagination, utterly true.' – Guardian Australia
'Julie Koh's first full-length short story collection, Portable Curiosities, is an electrifying satire on Anglo-Australian hegemony and the underbelly of the Australian Dream. … Julie Koh's fiction is better than wild; it is a savagely brilliant exposé of society's vices.' – Australian Book Review
'Koh is a gifted satirist … Humour, weirdness, and social critique characterise almost all of the stories in this clever and highly original collection.' – The Sydney Morning Herald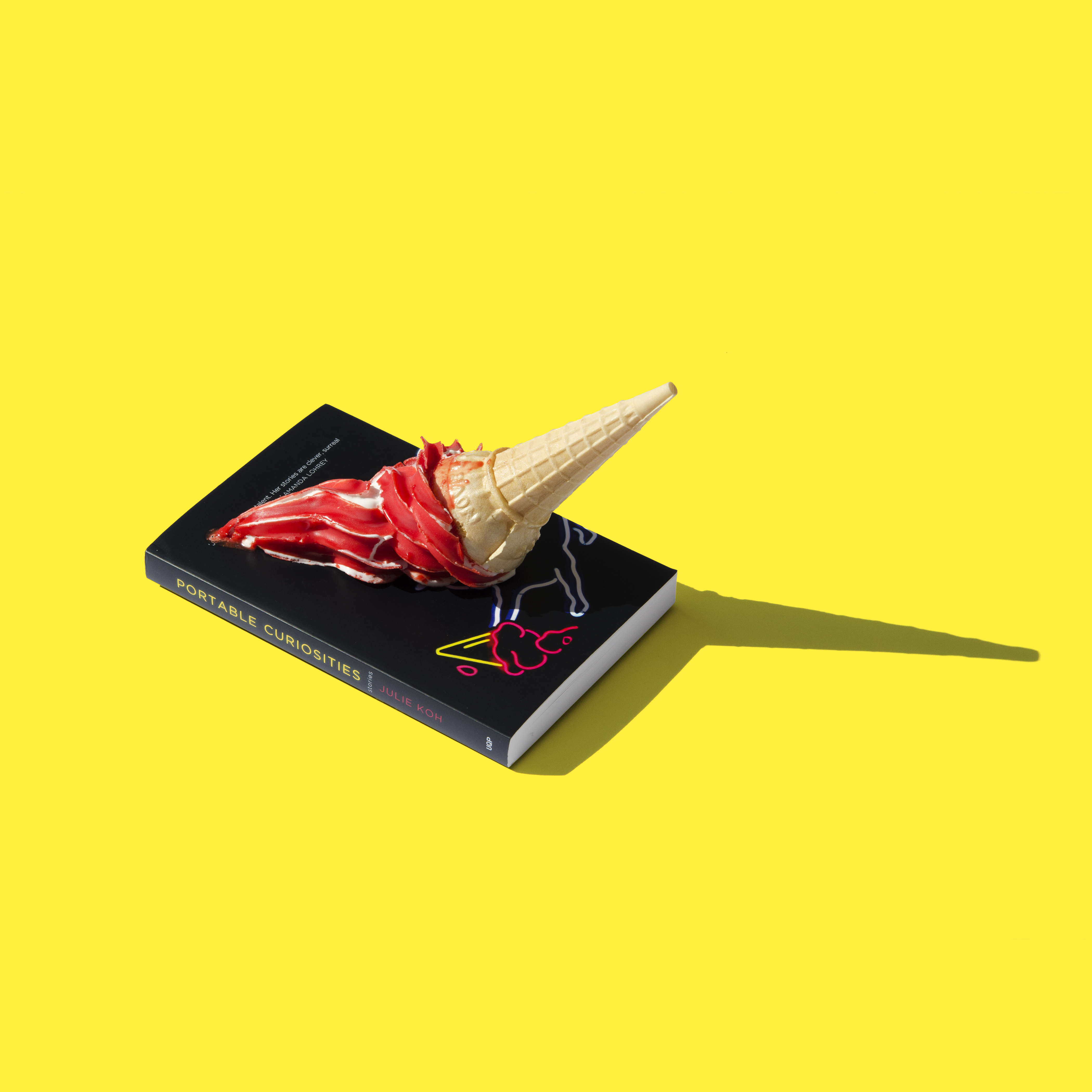 'A Mister Softee Cherry Dip Cone for Julie Koh's allegorical and darkly comedic short story collection Portable Curiosities (which includes a deadly delicious story entitled "Cream Reaper").' – icecreambooks.com
'These twelve richly satirical narratives are absurdist, bleak, and blackly comic. Koh balances political commentary with portraits of society's most perversely self-defeating behaviours that are often wickedly funny, and sometimes moving. … Koh is not pulling any punches, weaving elements of the mysterious and the grotesque with the all-too-real. Skirting the 'bleeding edge' – to borrow her tongue-in-cheek use of a particularly apposite bit of management-speak – not one of these stories allows her readers to sit comfortably.' – Sydney Review of Books
'"Julie Koh's Portable Curiosities (UQP, 8/16) is darkly comedic … combining formal inventiveness with a poker face in a particularly sharp collection of short stories. 'The Three-Dimensional Yellow Man' is surely a classic. – Nicholas Jose, Australian Book Review
'Koh's stories provide hilarious, lurid, touching and political views of Sydney, shot through with magic and near-futurism. Packed with ideas and arguments, Portable Curiosities is also wildly imaginative and laugh out loud funny.' – Patrick McIntyre, Executive Director, Sydney Theatre Company
'… surreal, satirical stories… you genuinely don't know what's going to happen next… very funny.' – Chris Womersley, author of Cairo, Bereft and The Low Road, Triple R Breakfasters
'Comprising twelve darkly funny and allegorical stories spanning spec-fic, black comedy and mock journalism, Sydney writer Julie Koh's Portable Curiosities is full of biting reimaginings of Australian culture and history that throw into sharp focus the uncomfortable realities of contemporary life. … Similar in theme to Nic Low's Arms Race or Sonja Dechian's An Astronaut's Life, Portable Curiosities is a stellar addition to a new wave of Australian satire.' – Alan Vaarwerk, Readings
'I get the impression Koh is as delighted by the awfulness of late capitalism as she is horrified by it, and that gives me hope that our imminent dystopian future will at least not be humourless.' – Jennifer Mills, Meanjin
'If you like pithy, strange, cutting and hilarious stories that skewer modern-day living, then this is the collection for you.' – Leanne Hall, Readings
'Like Murakami with more edge, or Kurt Vonnegut but less sentimental, Julie Koh has assembled in Portable Curiosities a collection of potent, morbid short stories, each one hilarious and dark in equal measure.' – Grapeshot
'The bizarre worlds Koh creates become disturbingly plausible when her vivisection of contemporary society is laid bare. She satirises acutely; exposing the raw wounds, absurdity, and hidden pain of modern Australia with her short, sharp shocks of fiction. Her satire is funny because it is so relatable. But that is also what makes it so bleak.' – Pencilled In Magazine
'… it is rare to come across an author with such a unique style and perspective …' – Mascara Literary Review
'Fuckin' love those stories so much.' – Benjamin Law
Check out Readings' five reasons to read Portable Curiosities.
Check out the official website for links to retailers.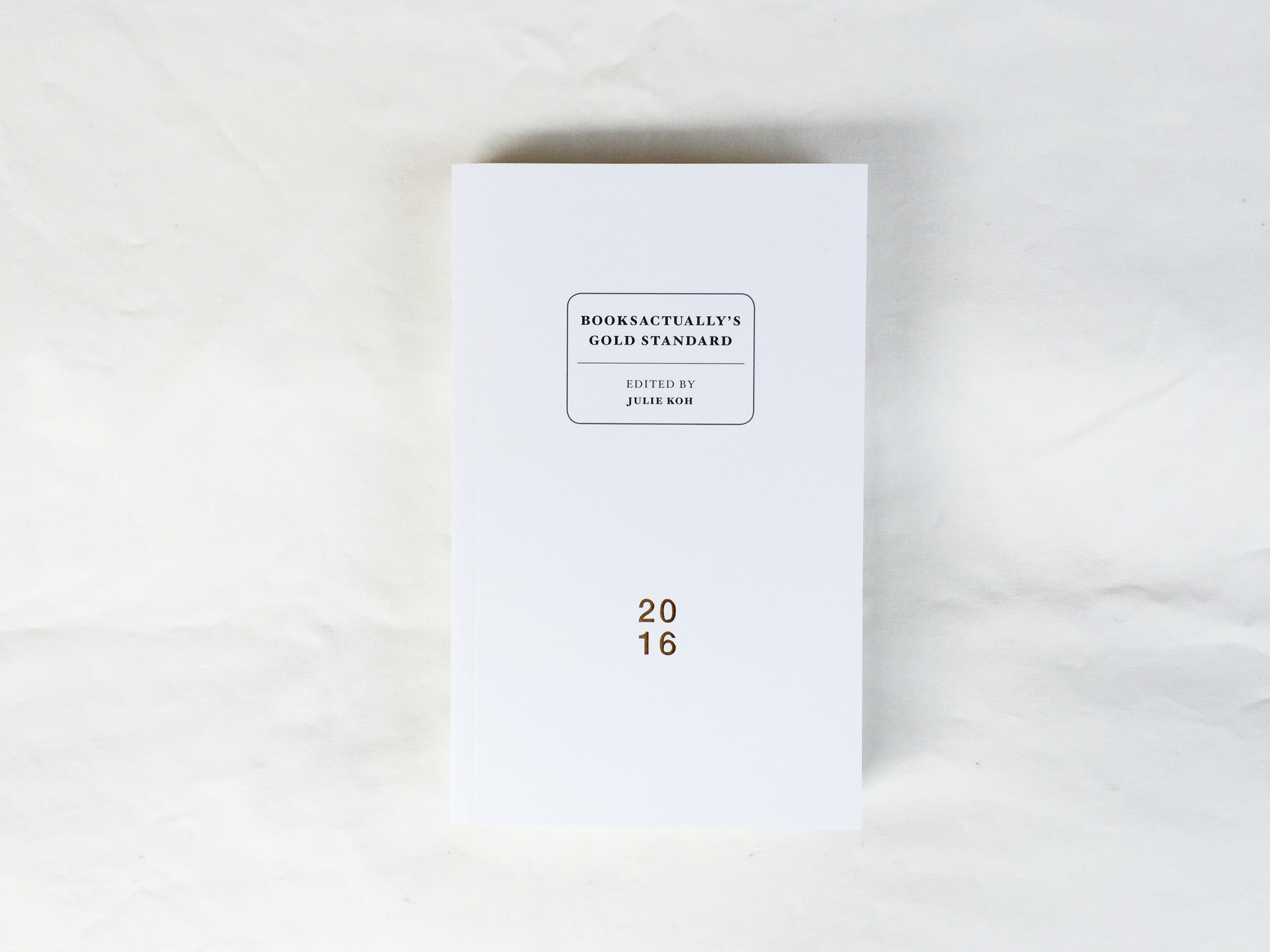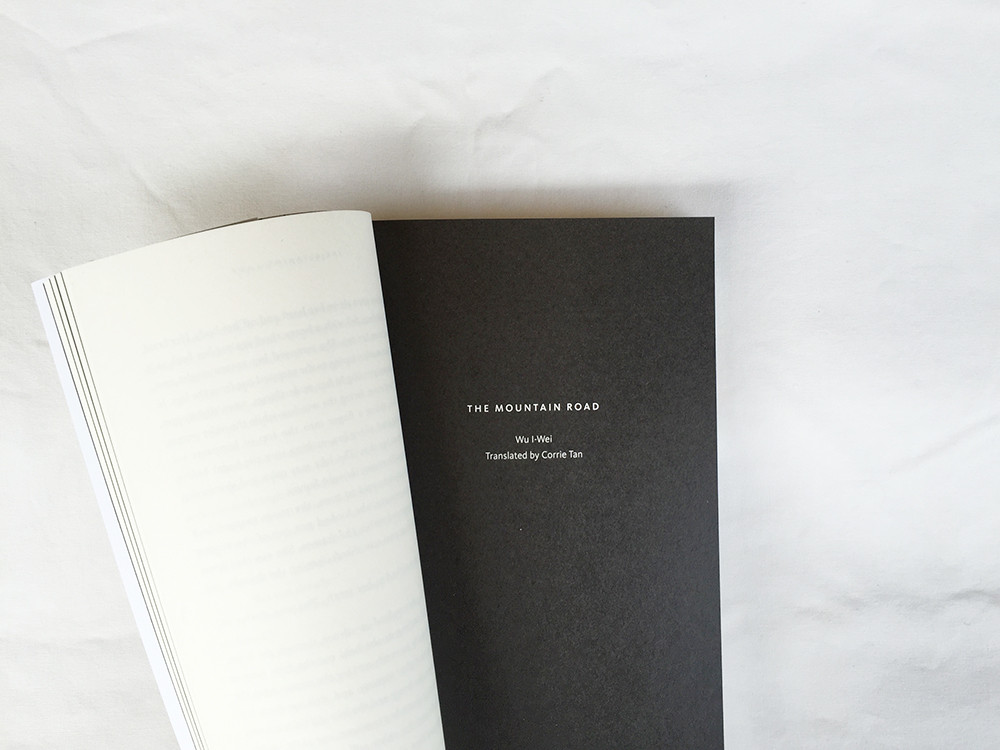 BooksActually's Gold Standard 2016 is a highly anticipated new annual anthology from indie bookstore BooksActually, comprising short fiction by the best cult writers of East Asia, Southeast Asia and the diaspora.
Showcasing some of the most compelling and original voices of the moment, this year's all-star collection features stories from nineteen writers.
Edited by Julie Koh, BooksActually's Gold Standard will keep you in step with groundbreaking new output from Asian writers across the globe.
Featuring: A Yi / Avianti Armand / John Bengan / Chang Ching-Hung / Tom Cho / Linh Dinh / Eliza Vitri Handayani / Balli Kaur Jaswal / Tang Keyang / Jing-Jing Lee / Joe Milan Jr. / Laksmi Pamuntjak / Matthew Salesses / Ahmad Tohari / Tiffany Tsao / Dorothy Tse / Cyril Wong / Wu I-Wei / Kyoko Yoshida
Shortlisted for Best Anthology in Mascara Literary Review's Best Avant-garde Literary Awards 2016
The Business Times' favourite anthology of the year
– paperback with cover flaps: 350 pages
– product dimensions: 125 x 200 mm
Customers in Australia
Order a copy now for $30.95 (including shipping).
If you wish to purchase multiple copies, please enquire on the Contact page about combined shipping costs.
The book is also available in-store at Better Read Than Dead and Gleebooks in Sydney.
International customers
Customers requiring delivery outside Australia can purchase copies from the BooksActually online store.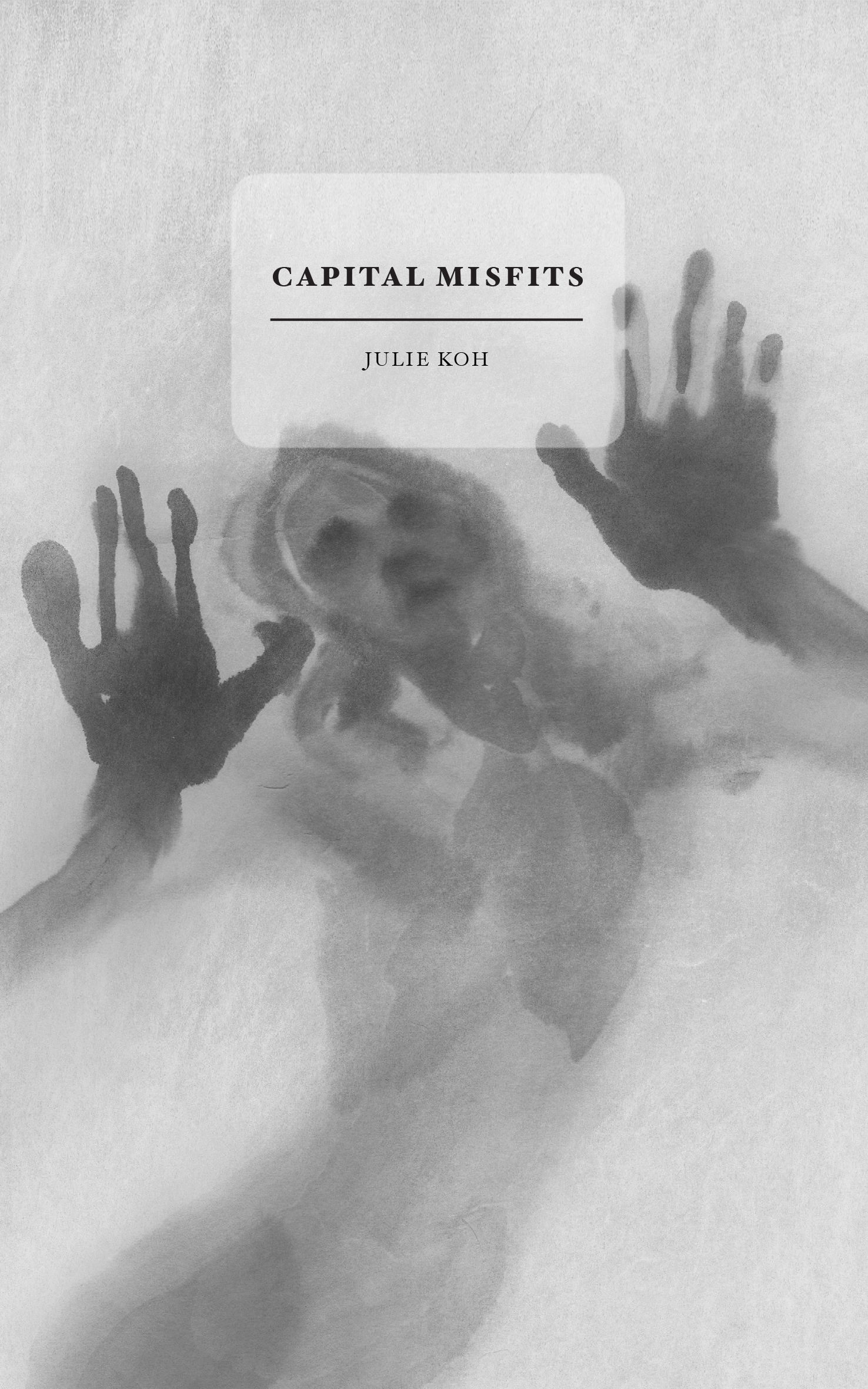 A special print edition of capsule short story collection Capital Misfits, illustrated by Matt Huynh, is now out through Math Paper Press.
About the Collection
A woman arrives on the seventh floor of Heaven, only to discover it is a trading floor where the dead swap their karma before rebirth. In a Sydney laboratory, a vagrant participates in cosmeceutical trials in return for a Rolex watch. On an island made out of sugar, a student questions the rule of the benevolent Sugar Daddy. At an open mic night in New York, a zen poet takes the stage and begins to tell the greatest, most devastating joke in the world. In this blackly funny parallel universe, Koh explores the absurdity of a world in which the market has become God.
What People Are Saying
'Julie Koh's stories explore the bizarre, the unexpected and the surreal, whilst never losing sight of the human. Witty, horrifying and thought provoking by turns, Capital Misfits is a truly memorable collection from an original voice in Australian short fiction.' – Ryan O'Neill, author of The Weight of a Human Heart
'I will beg, borrow or steal to make sure I read anything Julie writes.' – Louise Swinn, Editorial Director of Sleepers Publishing 
'I am mesmerised by the pizzazz and chutzpah of Julie Koh's Capital Misfits. – Eric Yoshiaki Dando, author of snail
'…vivid and witty prose, which, combined with a signature brand of absurd humour, culminates in a bold and original voice. Haunting and thought-provoking, Capital Misfits is undeniably a hidden gem that will keep you up at night and make for an unforgettable read.' – Raffles Press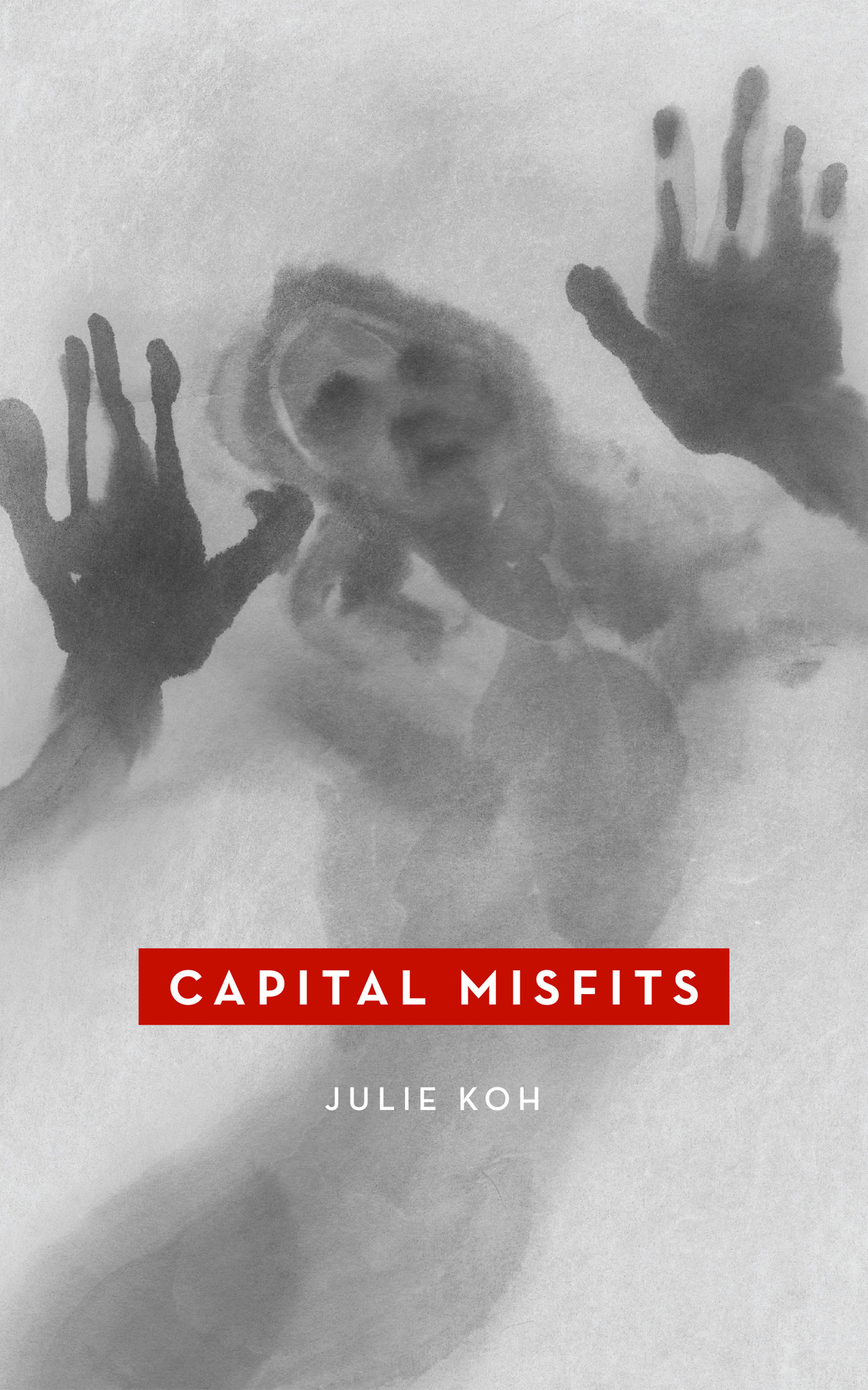 An Australian print and ebook edition of Capital Misfits is forthcoming, with cover design/layout by Haline Ly of Whale Design Co.
For updates, sign up to the newsletter or watch this space.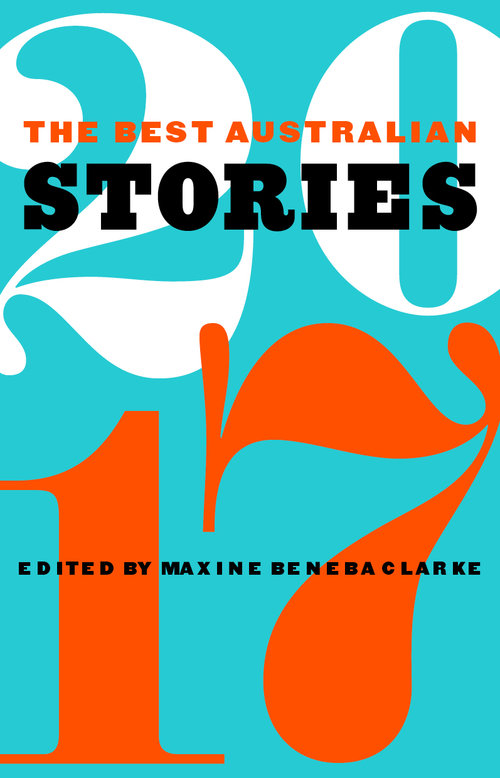 Short story, 'The Wall', in The Best Australian Stories 2017 edited by Maxine Beneba Clarke. First published in Issue 10 of The Canary Press.
Fellow contributors: Dominic Amerena, Madeline Bailey, Tony Birch, Verity Borthwick, Raelee Chapman, Elizabeth Tien An Flux, Cassie Hamer, John Kinsella, Melissa Lucashenko, Myfanwy McDonald, Jennifer Mills, Joshua Mostafa, Ryan O'Neill, David Oberg, Allee Richards, Mirandi Riwoe, Josephine Rowe, Joe Rubbo, Beejay Silcox and Ellen van Neerven.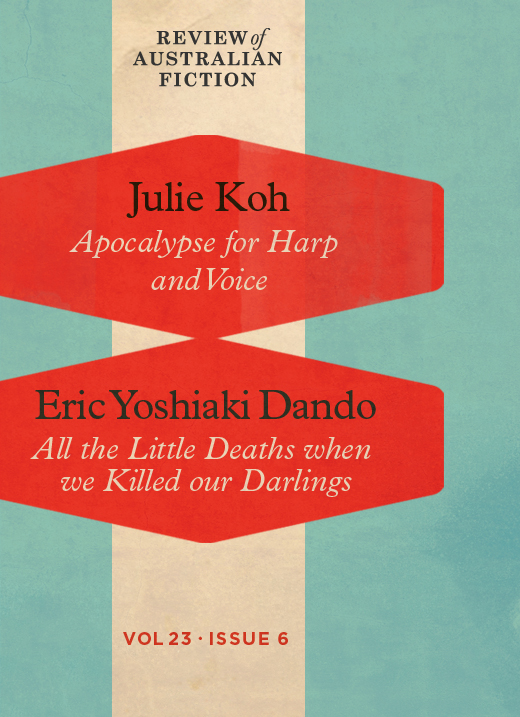 Short story, 'Apocalypse for Harp and Voice', paired with 'All the Little Deaths when we Killed our Darlings' by Eric Yoshiaki Dando.
This issue is part of a collaboration between my literary collective, Kanganoulipo, and Review of Australian Fiction. The volume was curated by Jane Rawson (From the Wreck) andRyan O'Neill (Miles Franklin-shortlisted author of Their Brilliant Careers).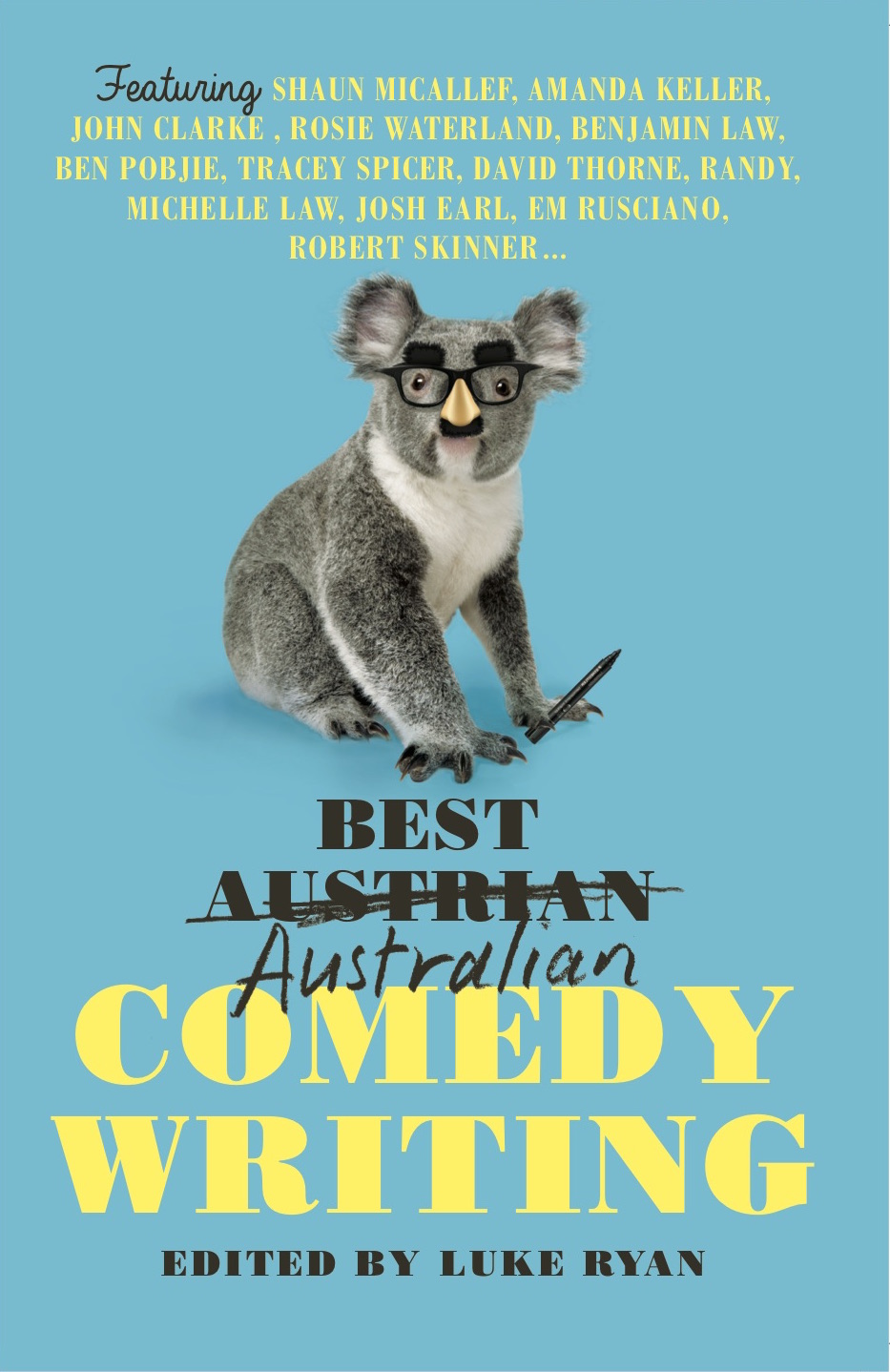 Short story 'Cream Reaper' from Portable Curiosities also appears in 2016's Best Australian Comedy Writing.
Fellow contributors: David Burton, John Clarke, Josh Earl, Greg Fleet, Anna Heyward, Ben Jenkins, Amanda Keller, Benjamin Law, Michelle Law, Ben McLeay, Shaun Micallef, Ben Pobjie, Randy, Jordan Raskopoulos, Sarina Rowell, Em Rusciano, Robert Skinner, Tracey Spicer, Angela Thompson, David Thorne, Jack Vening, Lorelei Vashti, Chloe Walker, Rosie Waterland and Evan Williams.
'2016 has been a very long year spent in a very unsatisfactory version of reality, and it's the texts that achieve some degree of fictional comic imagination that provide real comic relief. … Who needs more reality, however wryly or laconically observed, when we can have ice cream so cool people take the 50% risk of death in eating it (Julie Koh, "Cream Reaper") …' – The Conversation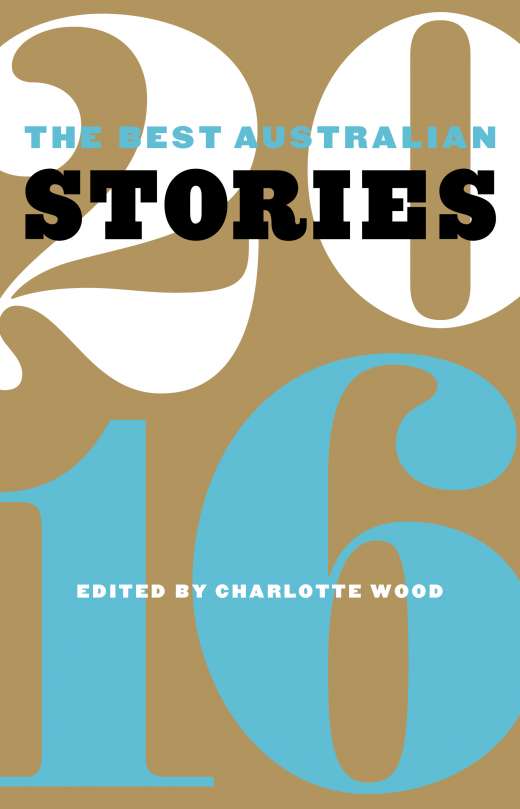 Includes my short story, 'The Fat Girl in History', first published in The Sleepers Almanac X and then in Portable Curiosities.
Fellow contributors: Paddy O'Reilly, Tegan Bennett Daylight, Gregory Day, Elizabeth Harrower, Ellen van Neerven, Nasrin Mahoutchi, Jack Latimore, Brian Castro, Georgia Blain, Trevor Shearston, Fiona McFarlane, Jennifer Down, Elizabeth Tan, Michael McGirr, Kate Ryan, James Bradley, Michelle Wright, David Brooks and Abigail Ulman.
'Again, there is not much room for humour this year, but two stories in particular made me laugh: Paddy O'Reilly's rambunctious Monster, a satire on what most of us would call "the other", and Julie Koh's The Fat Girl in History and its playful glance to Peter Carey.' – Mandy Sayer, The Australian
'I am making this book sound more solemn than it is, but it is leavened throughout with various kinds of humour, and two stories in particular manage to be both substantial and hilarious. Julie Koh's 'The Fat Girl in History', which I first read in her excellent début collection, Portable Curiosities (2016), nods to Peter Carey and is a playful story about sexism and racism, if you can imagine such a thing.' – Kerryn Goldsworthy, Australian Book Review
'There are other multiple, versatile and passionate authors: … Juli[e] Koh, featured in Stories and Comedy, where her brilliant mock celebrity interview, Cream Reaper, features an ice-cream genius who extends his range to homicidal lengths.' – Peter Pierce, The Age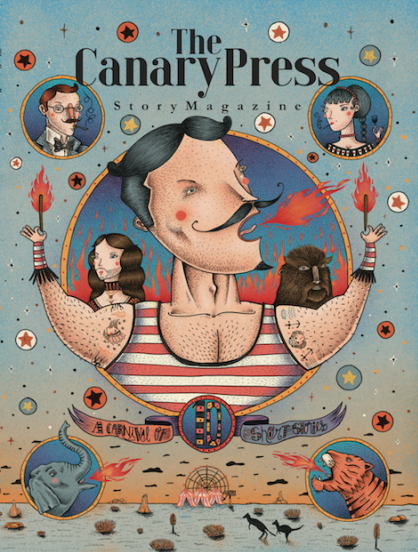 Short story, 'The Wall', in The Canary Press, Issue 10, with illustration by Jeffrey Phillips.
Contents:
Letters – Ryan O'Neill, Caitie Lawless
Etgar Keret – How to Make a Good Script Great
Carys Davies – The Quiet
Patrick Lenton – What is a Hornet
Chloe Smith – Hell is a Place
Paul Foot – Dalai Karma
Eric Yoshiaki Dando – When a Lion Attacks
Jennifer Mills – Blue, Red, Blue, Red, Blue
Julie Koh – The Wall
Dave Eggers – After I Was Thrown in the River and Before I Drowned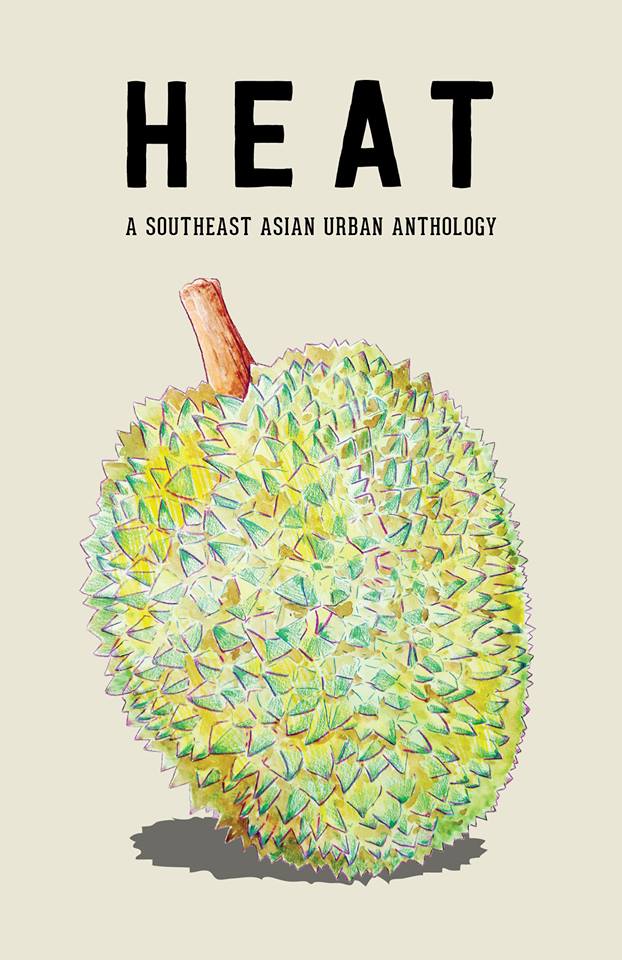 Includes my short story, 'The Procession', described by editors Khairani Barokka and Ng Yi-Sheng as a 'capitalist-polytheist fantasia'.
Fellow contributors: Gabriela Lee, Zed Adam Idris, Vina Jie-Min Prasad, Rewat Panpipat (translated by Marcel Barang), Nikki Alfar, Joseph Ng, O Thiam Chin, Christine V. Lao, Alexander Marcos Osias, Catalina Rembuyan, Hồn Du Mục, Maf Deparis & Ivery del Campo, Diyana Mohamad, Peter Zaragoza Mayshle, Lee Ee Leen, Zedeck Siew and Bonnie Etherington.
Currently available via Smashwords.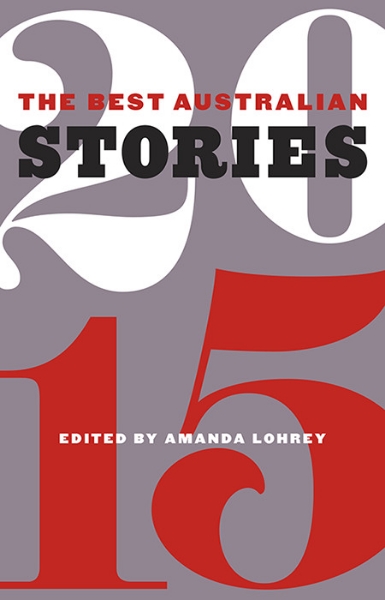 Includes my short story, 'The Level Playing Field', originally published in Capital Misfits.
'Julie Koh's "The Level Playing Field" is a fresh addition midway through the collection: this is a biting satire of the notion of merit and builds to a dramatic and unexpected finish. It feels risky in a way that few of the other stories included do.' – The Writers Bloc
'Lohrey reprises her 2014 editorial role; five of the authors represented in The Best Australian Stories 2014 are also found in this book. Of these five stories, Mark Smith's 'Manyuk', Julie Koh's 'The Level Playing Field', and Nicola Redhouse's 'Vital Signs' constitute effective companion pieces to their 2014 equivalents. … Most compelling of the more experimental inclusions is Koh's piece of speculative fiction. Read this story slowly to absorb the fine satire and the fierce artistic act of transgression. It may speak to many readers.' – Australian Book Review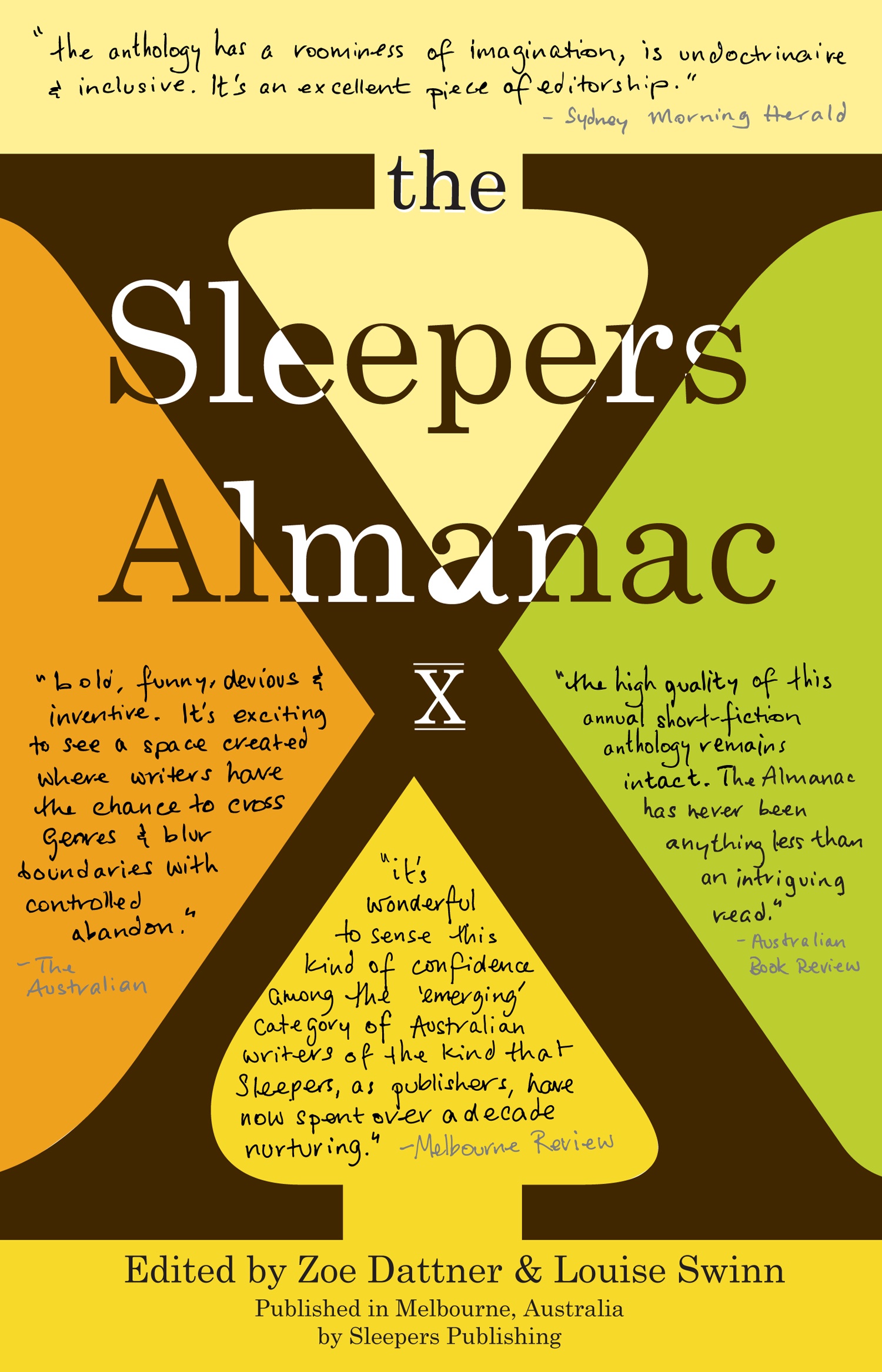 Short story, 'The Fat Girl in History' in The Sleepers Almanac X.
'Julie Koh's The Fat Girl in History is a fun piece of auto-fiction that hits its stride when our narrator starts to expand defiantly beyond the boundaries of her human form.' – ArtsHub.
'The wonderful Sleepers Almanac X (Sleepers Publishing, $24.95) derives much of its energy and attractiveness from falling firmly into the latter camp, and among my favourites are Julie Koh's The Fat Girl in History, Jarryd Luke's Chaotic Neutral and Eric Yoshiaki Dando's Space Monkeys Drink Tang.' – The West Australian
'In more than ten years on the scene, Sleepers has positioned itself as both champion of the small press sector – the natural home of the short story – and a canny player in the broader publishing landscape; its Almanac has been a reliable litmus test for the direction of new Australian writing.
In this instalment, several absurdist and satirical works are stacked into the collection's middle section, including the oddball 'Space Monkeys Drink Tang' by Eric Yoshiaki Dando, and Julie Koh's surreal first-person meditation on society's (and the narrator's mother's) relentless attacks on women's bodies in 'The Fat Girl in History'.' – Australian Book Review
'As ever the collection provides a sampler for types of writing and the range stretches from sensitive, intelligent stories in the tradition of Munro or Garner — Jennifer Down's Pressure Okay, Melissa Howard's  Just Love the Boys, Sophie Overett's Undertow — to a gripping story of violent action set in Angola (A Quiet Day on the Ilha by Daniel Harper) and varieties of humour from the seriocomic (Leticia Parish's Lessons In Experimental Biology, which includes the killer line "People who know nothing about computers expect people who know something to know everything") to the fantastical.
In that vein comes Eric Yoshiaki Dando's  Space Monkeys Drink Tang, which is then alluded to in Julie Koh's The Fat Girl in History, which shrugs off the anxiety of influence ("People say I remind them of Peter Carey," says the narrator, "I haven't read any Peter Carey")  and rolls her eyes at the fashion for writers to put celebrities in their work…' – The Sydney Morning Herald / The Age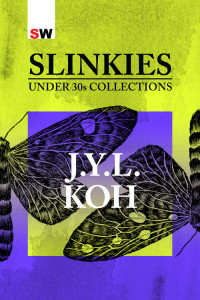 The Spineless Wonders ebook edition of Capital Misfits is no longer available. See above for details of the second edition.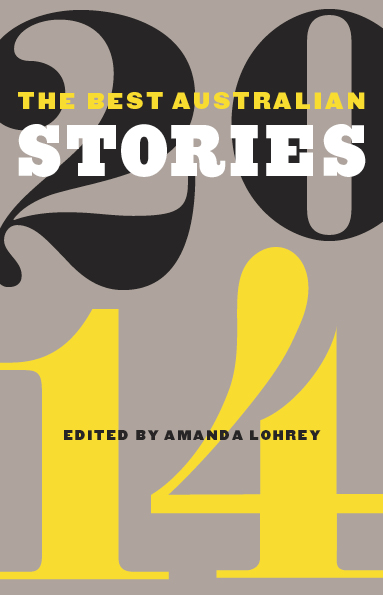 Includes my short story, 'Civility Place', originally published in The Sleepers Almanac No. 9.
'In the troubling Civility Place, corporate-lawyer-turned-writer J.Y.L. Koh tells the story of an anonymous worker in a 1200-level glass skyscraper as they slowly lose their grip on sanity…' – The Spectator
'A gloriously ironic piece by JYL Koh who cocks her nose at very large institutions and its top brass.' – ArtsHub
'JYL Koh's 'Civility Place' is a welcome foray into the speculative/surreal: Richard Yates meets Philip K Dick, about the inescapability of commerce.' – Angela Meyer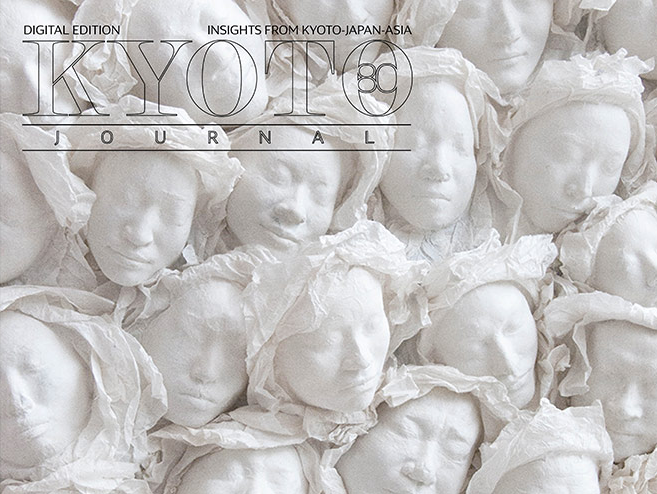 Includes my short story, Sight. Illustrated by Matt Huynh.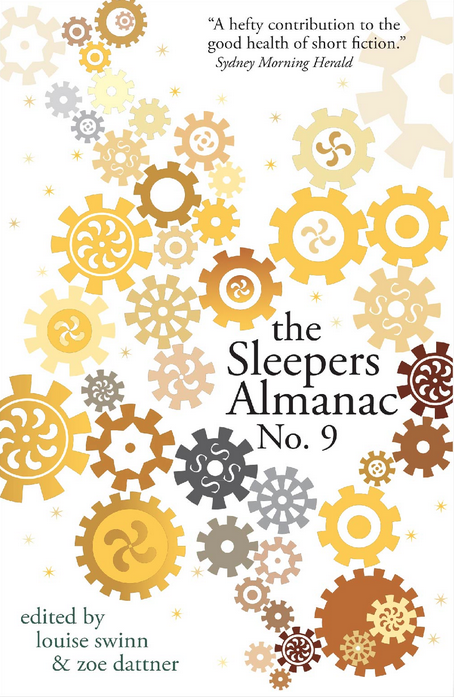 Includes my short story, Civility Place, about a lawyer who works in a 1,200-storey glass tower. The stories from this Almanac (and previous Almanacs) are also available on the Sleepers iPhone app.
'JYL Koh's Civility Place takes a corporate lawyer into a world where all roads lead back to the swaying tower where he works, the revolving glass doors like "egg beater fans sucking you in. Whump. Whump. Whump." It's a razor-sharp and witty incision into the soul-destroying nature and extreme pressures of high-powered white-collar work, where secretaries sitting next to each other communicate by email, where emphasis on good mental health means going home to log on remotely and where exit interviews mean the woman from human resources says, "'I better let you go', even though it was she who had places to be".' — The Australian
'J.Y.L Koh's Civility Place uses fantasy in a different and more socially conscious way: this story of a corporate lawyer externalises and makes literal the all-consuming nature of the modern workplace. The glass tower is all glass, walls and floors and "You've been told a middle-aged woman was once found wedged in one of the glass ceilings".' – The Age / The Sydney Morning Herald
'Folklaw wonders whether an "absurdist" tale about a lawyer who has a panic attack while working in a 1200-storey, glass-made office tower is really that removed from reality. … The (extremely funny) story in the 2014 edition of The Sleepers Almanac, published this month (April), canvasses issues of overriding concern to corporate lawyers…' — Lawyers Weekly
Read the Lawyers Weekly interview here.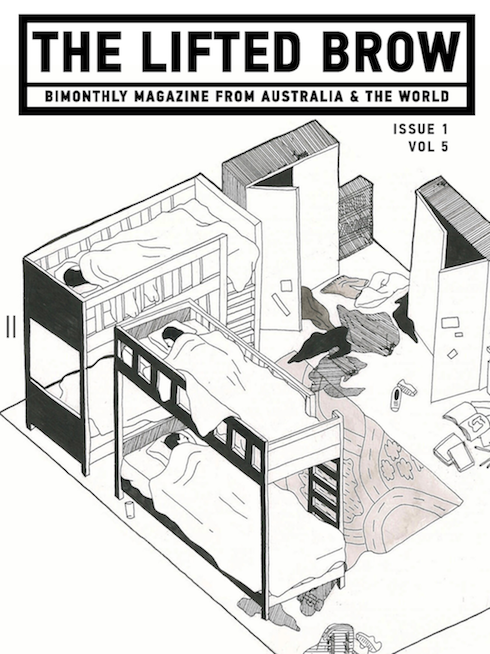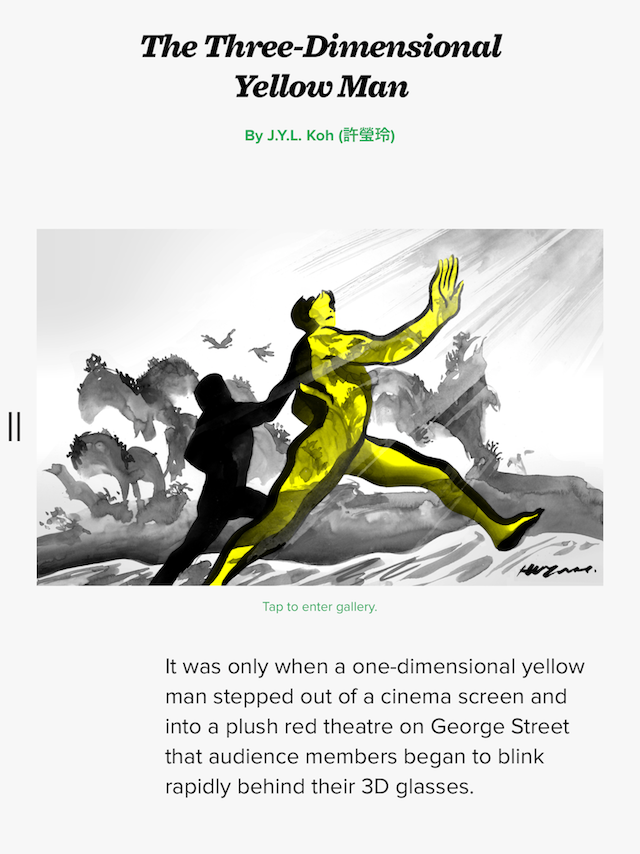 The 3D Yellow Man Edition of The Lifted Brow (Digital Edition Volume 5 Issue 1) features my short story, The Three-Dimensional Yellow Man, with illustrations by Matt Huynh. Read via the Lifted Brow app or online here.
Includes my long short story, Two.
'J.Y.L. Koh's 'Two' is an absurdist sprint through the regimented life of a man who decides that, if life is fleeting, he will beat it.' — Australian Book Review.
Short review of Peter Corris' The Dying Trade (Text Publishing) in The Lifted Brow No. 14.
Includes my short story, Teapot Piñata, described as a "celebration of the absurd" in The Australian.
The Fantastic Breasts ebook is available for free. Download it via Smashwords (in all major eReader formats plus computer-friendly formats like RTF and PDF) or through iTunes or the iBook app on your iPad or iPhone (iOS4 or above).
Includes my flash fiction piece, HELENA J. GINSBURG (1980-2007), which was a Runner Up in the Fish One-Page Prize 2007.
Includes my short story, Colin the Dog's Fabulous Midnight Adventure and Another Story (2001).