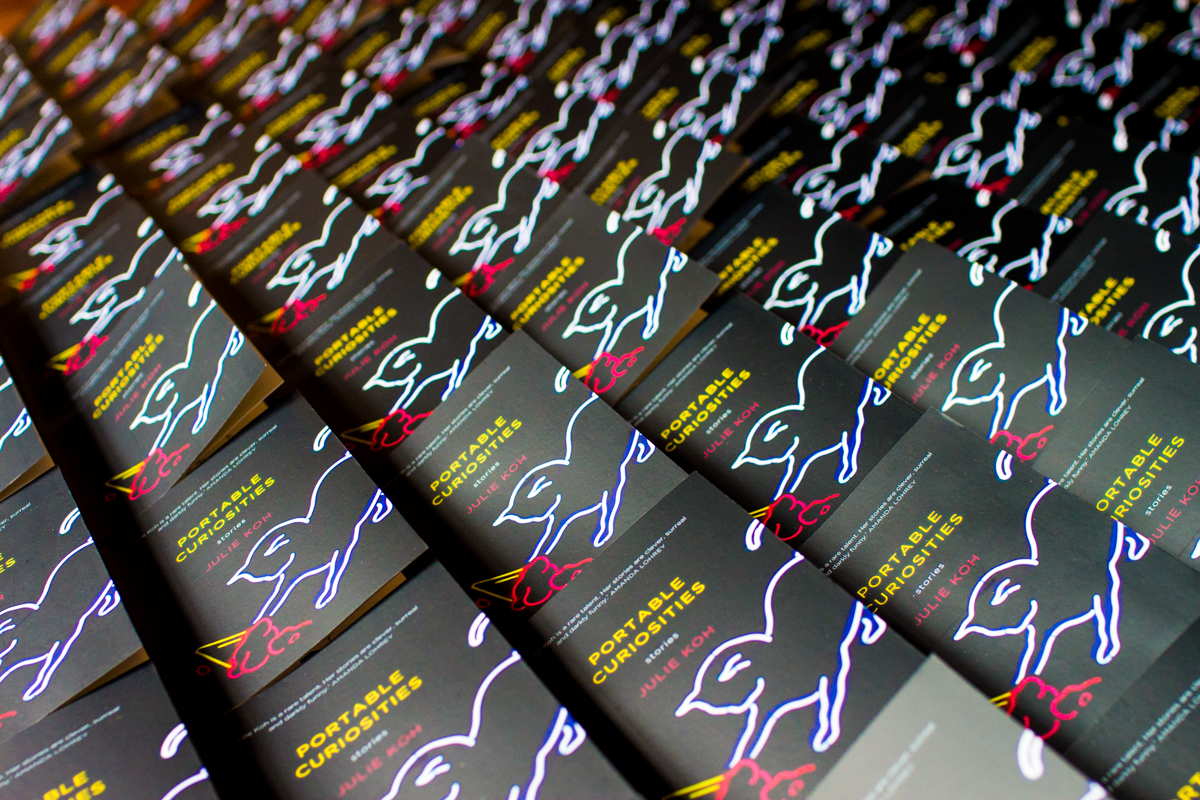 2016 was a great year for Portable Curiosities. Here's a round-up of mentions in 2016's best-of lists.
One of Maxine Beneba Clarke's favourite reads of 2016, The Sydney Morning Herald/The Age. 'Literary satire has really grabbed me this year: internationally speaking, I'd recommend Paul Beatty's Man-Booker prize-winning The Sellout (Oneworld), and here on home ground both Julie Koh's post-modern short-fiction collection, Portable Curiosities (UQP), and Randa Abdel-Fattah's hilarious but poignant young-adult fiction book, When Michael Met Mina (Pan), pack a punch.'
2016 Books of the Year, Australian Book Review. 'Julie Koh's Portable Curiosities is a slippery and subversive collection that made me laugh aloud as it sank a knife into contemporary Australia.' – Paddy O'Reilly. 'Julie Koh's Portable Curiosities (UQP, 8/16) is uniquely surreal, entertaining, and sometimes dazzling.' – Shannon Burns.
Readings' favourite book covers of 2016. 'Honourable mentions also go to Scribe's fantastic cover for Melissa Broder's So Sad Today and the neon delight that is Julie Koh's Portable Curiosities.' – Alan Vaarwerk.
Sydney Theatre Company's Summer Reading List. 'Koh's stories provide hilarious, lurid, touching and political views of Sydney, shot through with magic and near-futurism. Packed with ideas and arguments, Portable Curiosities is also wildly imaginative and laugh out loud funny.' – Patrick McIntyre, STC Executive Director.
Urban Walkabout's Summer Reading Guide to Suit Every Mood. 'Weirdness is a mood. This collection of short stories has everything you need to keep your holidays nice and odd. If you're feeling stultified and bored by Aunt Ruth's long tales of mortgage at the dinner table, Portable Curiosities will swiftly provide a tonic. Featuring a blend of absurdism and satire, each story is a wonderful escape from normality. The stories range from a hyperbolised look at foodie culture to a tale about some really fantastic breasts, and it's just a delightful book.' – Patrick Lenton.
Pencilled In Top 5 Reads of 2016. 'If Haruki Murakami and Angela Carter had a literary child, this might just be it. Koh writes a brilliant collection of short stories gets right to the heart of the world we live in today, complete with characters and settings that are strange yet relatable.' – Yen-Rong Wong. 'Strange, sharp, hilarious and sneakily political stories that somehow fits whole worlds into a few pages. Filled that George Saunders shaped hole in my life.' – Rajith Savanadasa (Ruins). 'This short story collection redefined Asian-Australian writing for me. Hilariously dark, heart-breaking and ultra-contemporary, Koh's short story collection refuses to be pigeon-holed. Stand-outs: 'Cream Reaper' (#nomnomnom) and 'The Three-Dimensional Yellow Man'.' – Shu-Ling Chua.
Muse's Nikki Anderson's pick of 2016. 'A book I raced through with delight was Portable Curiosities by Julie Koh (UQP). I love a good short story — that capacity to create a world and deliver a punchy narrative in a short space. Julie Koh's stories are deceptive, shadowy, like some of her characters —  they set up worlds we feel we know, but startling differences creep in —  ghosts and third eyes and murderous food culture, life and parenting as competitive sport. All to poke fun at and make us question our contemporary world. They are arch, satirical and very funny. It's a slim volume to devour, and then read again slowly.'
One of Mark Smith's Favourite Debuts. 'How do you categorise a collection as inventive and varied as Portable Curiosities – absurdist, satirical, analytical and at times so real the characters seem to jump off the page – like those leaping off the screen in the stand-out story, The Three-Dimensional Yellow Man? I loved this collection for its audacity and its biting commentary on Australian culture and history.'
Portable Curiosities was also one of Damon Young's summer reading recommendations. Listen to him discussing the book on ABC RN Breakfast. 'This is some great writing. It's intensely funny but it's also pretty ferocious… It's at once very thoughtful but also incredibly enjoyable.'
In the final episode of ABC's Bookish for 2016 (Episode 40: Summer Reading List), Amelia Lush, Young Bookseller of the Year 2016, nominated Portable Curiosities as the book she was most looking forward to reading: 'Portable Curiosities by Julie Koh. Three of my favourite things are quirky stories, Australian women writers and short stories – and this book has all three.'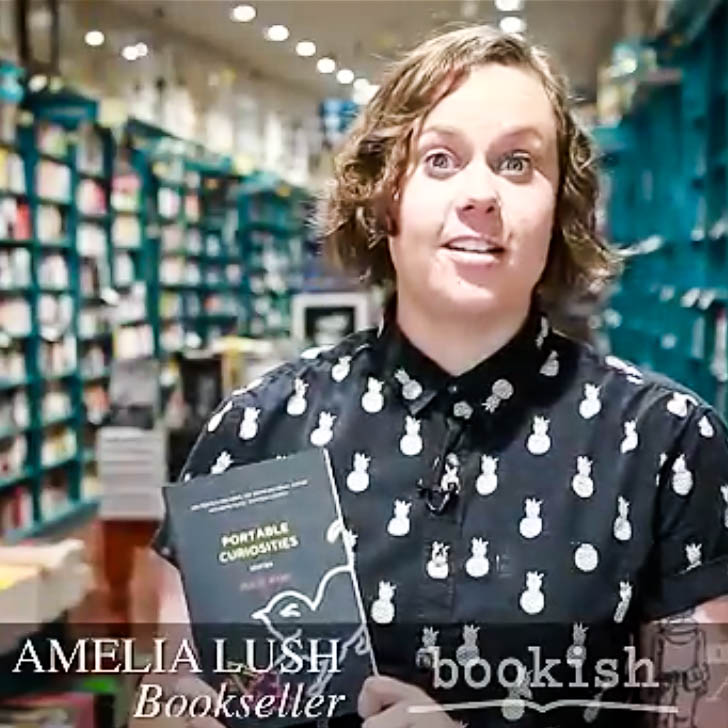 In 2016, two stories from Portable Curiosities appeared in Best Of anthologies. 'The Fat Girl in History' appeared in The Best Australian Stories 2016 (edited by Charlotte Wood), and 'Cream Reaper' appeared in 2016's Best Australian Comedy Writing (edited by Luke Ryan). Here are some mentions in reviews:
'Again, there is not much room for humour this year, but two stories in particular made me laugh: Paddy O'Reilly's rambunctious Monster, a satire on what most of us would call "the other", and Julie Koh's The Fat Girl in History and its playful glance to Peter Carey.' – Mandy Sayer, The Australian
'I am making this book sound more solemn than it is, but it is leavened throughout with various kinds of humour, and two stories in particular manage to be both substantial and hilarious. Julie Koh's 'The Fat Girl in History', which I first read in her excellent début collection, Portable Curiosities (2016), nods to Peter Carey and is a playful story about sexism and racism, if you can imagine such a thing.' – Kerryn Goldsworthy, Australian Book Review
'There are other multiple, versatile and passionate authors: … Juli[e] Koh, featured in Stories and Comedy, where her brilliant mock celebrity interview, Cream Reaper, features an ice-cream genius who extends his range to homicidal lengths.' – Peter Pierce,

 

The Age
'2016 has been a very long year spent in a very unsatisfactory version of reality, and it's the texts that achieve some degree of fictional comic imagination that provide real comic relief. … Who needs more reality, however wryly or laconically observed, when we can have ice cream so cool people take the 50% risk of death in eating it (Julie Koh, "Cream Reaper") …' – The Conversation