This new website has been under construction for a while but is finally finished!
It was designed by the immensely talented Connor Tomas O'Brien, who is not only a website designer but also a writer, co-founder of Tomely and director of the inaugural Digital Writers' Festival, which runs from 13 to 24 February. The program for the festival is launching tomorrow, so keep an eye out for it.
My old friend Mike Camilleri generously helped me out with last-minute troubleshooting and some finishing touches to the site. In return for Mike's help, I've had to vow to learn HTML, basic web design and maybe some Ruby via Don't Fear the Internet, Codecademy, and Why's (Poignant) Guide to Ruby. It's not a bad trade, and completely benefits me! What a friendship!
The banner for this site has been adapted from the rotating banner for my old blog, an illustration by Matt Huynh based on elements of my writing studio.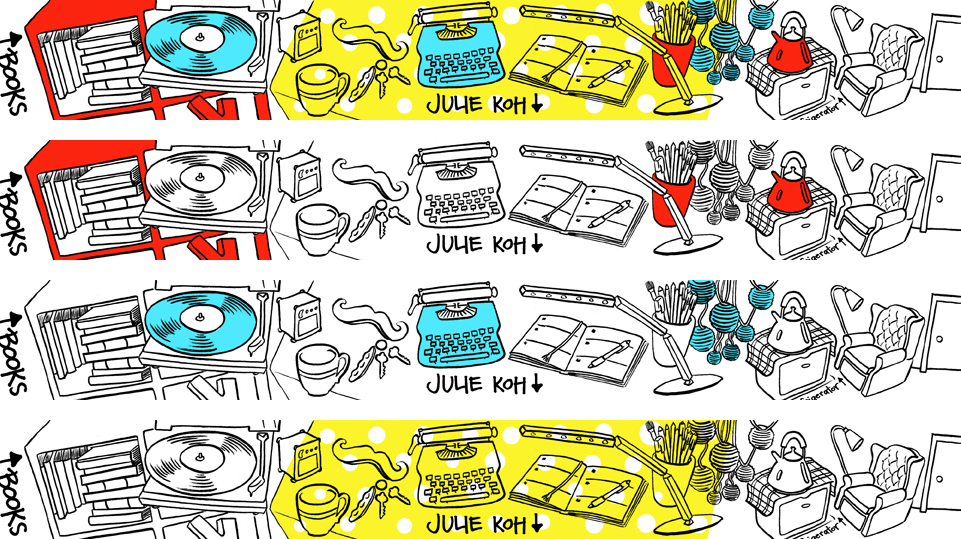 As a bit of an update, good things have been happening lately in relation to my fiction writing. In 2013, I was a Finalist in the Qantas Spirit of Youth Awards Written Word category, commended for the Australian Society of Authors' Ray Koppe Young Writers' Residency, longlisted for the Australian Book Review's Elizabeth Jolley Short Story Prize, and shortlisted for the Overland Victoria University Short Story Prize for New and Emerging Writers.
If you enjoy reading my fiction, short stories of mine to look out for in the near future include:
'The Three-Dimensional Yellow Man', which will be published on 15 February in The Lifted Brow, Digital Edition, Vol. 5, No. 2, with illustrations (again) by Matt. The story is about a yellow ninja who steps out of a 3D film and into a plush red theatre on George Street, to the bemusement of local cinemagoers. I'll be giving a guest lecture on it in March for the unit of study 'Race and Representation' at the University of Sydney. The story will also be taught at the University of Melbourne and possibly Monash University.
'Civility Place', which will appear in The Sleepers Almanac No. 9, to be launched in Melbourne in April. It's an absurdist story about a lawyer who works in a glass tower that extends into the sky as far as the eye can see.
If you'd like to subscribe to my occasional newsletter, you can do so here. If you'd like to read every blog post I write, it's best to check this site on a regular basis, or subscribe via an RSS reader like Feedly. The new format for this blog is specifically designed to accommodate the sort of content I like to post, so there will be much more frequent updates from me about things I find interesting, including the creative process, art, photography, fiction and film.
Thanks for reading, and belated best wishes for a happy 2014!
(Not really belated if you live by the Chinese calendar – patron calendar of procrastinators.)